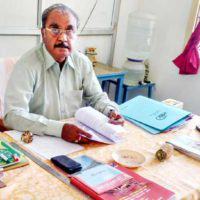 Our college was started in 1999. Since its formation, it has been striving its best for the noble cause of education. Thousands of students are benefited and well placed in society because of our college.
Our students are well talented and have academic excellence. They are well trained by a team of hard working teachers. Many students participate in many competitions held and shown their mettle. Their talents are duly recognized and awarded. Our college plays a significant role in higher education. Throughout the year placement camps are held. Every year on Annual Day celebrations, students are given placement orders. The management's aim is, all the students must emerge victorious in all their efforts.
I wish and welcome the young minds born to lead the nation.
M. PRABAKARAN
Director