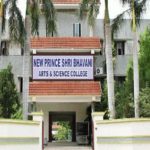 NPSB (New Prince Shri Bhavani Arts & Science College)
NEW PRINCE SHRI BHAVANI ARTS & SCIENCE COLLEGE was established in the year 1999 and is located in a sprawling green campus with a right ambience for pursuing higher education by the ABARANJEE AMMAL EDUCATIONAL SOCIETY which also runs several educational institutions for more than three decades.
The college is affiliated to the prestigious Madras University. It offers career-oriented educational service leading to Graduation and Post-Graduation in Arts and Science disciplines. It is a co-educational institution catering to the need of the day. The aim of the college to ensure an all sided development of the student and to offer many co-curricular and extra-curricular activities.
The college moulds students with qualities of love, discipline, courage, honest, creativity, moral values and social etiquette which make them a famous personality to serve the nation.
The college promotes active engagement of students in various associations like NSS, YRC and ensures holistic development to them. Workshops, seminars, industrial visits, educational trips, social projects, Inter- collegiate events etc., are periodically organized to help the students have better exposure and emerge out as successful leaders.
Through high academic standards, college facilitates to create an amicable environment for rural youth to enrich their Capabilities, and to make them responsible citizens by providing Ethical, Moral and Social Values.