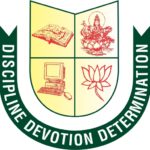 DEPARTMENT OF ELECTRONICS AND COMMUNICATION SCIENCE
Started in the year 1999, the department is offering B.Sc  Electronics and communication science , formerly  known as B.E.S (Bachelor of electronics).well experienced and dynamic faculty imparts knowledge and skills to inculcate the professional responsibilities to play leadership role along their diverse career paths and develop  capability to utilize innovative and creative electronic skills in industry ,national laboratories, research centers and entrepreneurship.
The association is the pioneer to encouraging the students to organize and participate in the workshops, seminars every year .The students exhibit their talents in various mind provoking events. The department also conduct guest lectures, seminars,Workshops, add on courses to enrich the knowledge of students in advanced topics.
The department is striving to become a centre of excellence in the field of principles of communication, digital electronics, Electrical and electronic instrumentation, microprocessor, micro controller and embedded systems.
The sincere effort of our faculty to motivate the students has produced remarkable achievements in co- curricular and extra – curricular activities. The dedication of our faculty and the keen interest exhibited by our students has produced a commendable academic record.
DEPARTMENT OF ELECTRONICS AND COMMUNICATION SCIENCE