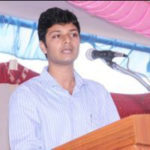 New Prince Shri Bhavani Arts and Science College (NPSBAC) was started in the year 1999.
We are delighted that you have decided to undertake your graduate degree at NPSBAC, or are considering doing so. Here our aim is to impart good quality education and develop zeal in you to outshine and excel in your professional career.
We feel proud to see how this college has made commendable progress at a steady pace within a relatively short period of time. This growth is reflective of our aim of providing world class physical infrastructure and industry oriented academic programmes. Our physical and research infrastructure includes well equipped class rooms, state-of-art laboratories, and computing facilities.
NPSBAC has an appealing ambiance for academically committed and passionately creative people. We continue to ensure that your years at 'NPSBAC' will be filled with excitement, and experiences that you can cherish for a life time.
With Best wishes,
L. NAVEEN PRASAD
Vice-Chairman