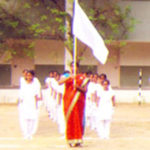 National Service Scheme (NSS)
National Service Scheme is one of the pathways to serve the society and welfare of the state. It is a platform for the students to prove their talents and to combine the academic knowledge with societal needs. NSS unit of our college is committed to yield the volunteers for the democratic, self-disciplined and self-respect way of life with the motto u201cNOT ME BUT YOUu201d.
Our unit regularly organizing the special camping activities for generating awareness about to protect the environment in u201cClean and Greenu201d. It has extension activities such as assisting Administration, Police and other Government departments are provided wherever the services of our volunteers and Program Officers are required.